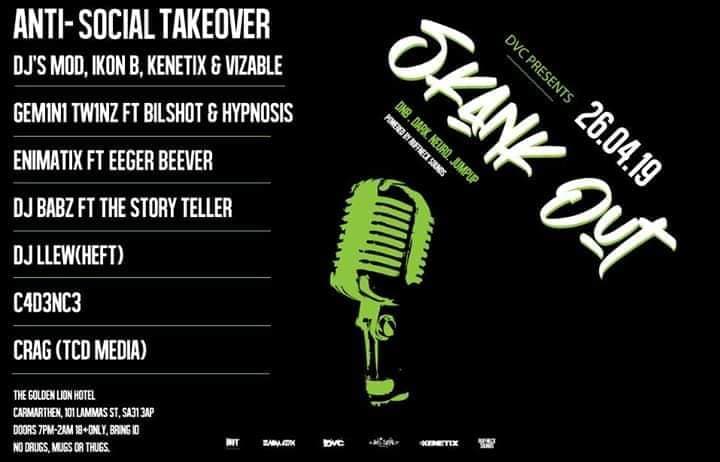 DVC PRESENTS- SKANK OUT!!
We are super excited to announce our first installment off 2019! have a HEAVYWEIGHT D&B LINE-UP in store for you, wicked visuals lighting and backdrops just right for the occasion! Expect a heavy hard hitting night of drum and bass all powered by RUFFNECK SOUNDZ!!!!!!!
**DJ'S**
DJ MOD B2B IKON B B2B DJ KENETIX &
MC VIZABLE (ANTI-SOCIAL TAKEOVER)
GEM1N1-TW1NZ FT BILSHOT & HYPNOSIS
ENIMATIX FT EEAGER BEAVER
DJ BABZ FT THE STORY TELLER
DJ LLEW (HEFT))
CADENCE (CADENCE AUDIO)
CRAG (TCD MEDIA)
FRIDAY 26TH APRIL
DOORS OPEN 8PM-2AM
£3 before 10pm £5 after <<
bring ID // over 18's // no mugs or thugs //

OFFICIAL SKANK OUT PAGE ON FACEBOOK:
DVC Presents Skank Out 26/04/19 – Bilshot performing live with the Gemini Twinz + Many others!
anti socialanti social takeoverbillshotbilshotBshotcarmarthencragdj babzdj kenetixdj llewdj moddrum and bassDVCemceeemceeseventgemini twinzgolden lionhotelikonliveMCmc vizableperformanceskank outstorytellerswanseatcd media